Originally Posted on The Coaching Tools Company as Coach FEATURE: Silke Hable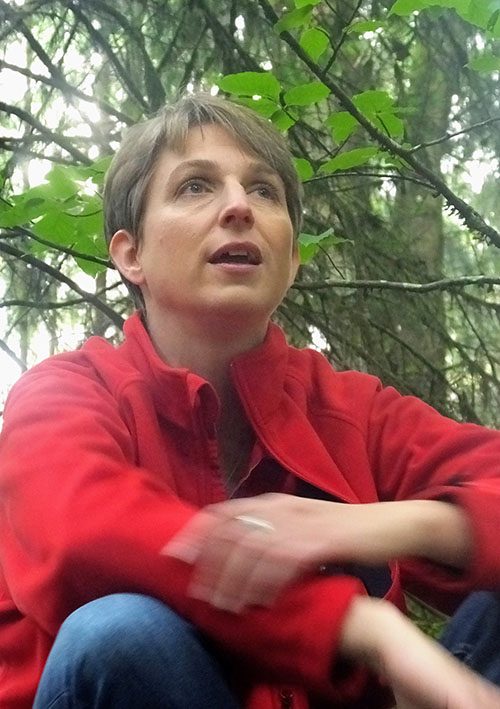 We continue to meet our fellow coaches, get inspired and build coach community with our "Meet the Coach" features! This month we meet Silke Hable who helps clients "finally be "whole" again—with the help of the forest!"
About Silke
Lives In: Michelstadt, Germany
Company: Red Fox Resilience Coaching
Type of Coach: Life, Balance and Resilience Coach
Describe your coaching business in one sentence: I help my clients feel more content, balanced and at ease with themselves, building up resilience combining mindfulness, positive psychology and techniques based on Stephen Porges' Polyvagal Theory with the benefits of the forest: a truly powerful healing space for both body and soul.
Meet Silke
QUESTION 1. What one book should every coach read – and why?
Every coach should read Stephen Porges' book The Polyvagal Theory: Neurophysiological Foundations of Emotions, Attachment, Communication, and Self-Regulation.
In coaching, a lot comes down to the client initializing change in different areas of their life. Porges' book explains how (and why) our autonomic nervous system unconsciously mediates social engagement, trust, and intimacy.
Connection and a feeling of safety is the base needed to regulate and be able to initiate and implement change in the first place. Someone whose regulation is not functioning properly will likely have a hard time leaving their comfort zone and finding new ways or creating lasting transformation.
QUESTION 2. Which website do you visit the most?
There are two websites I visit most:
The first is LinkedIn, as I enjoy networking and posting resilience-related content.
The second website I visit almost daily is researchgate.net, to stay up to date with research concerning my field of coaching.
QUESTION 3. Whom do you admire most and why?
The person I admire most is someone nobody would think of, probably: my daughter.
She was born almost 4 months premature, can't walk and is developmentally delayed. Yet she is the strongest, happiest, most determined and fun-loving little person I know. She is strong-willed and a true fighter and never loses her good-natured, friendly, open-minded ways. To me, she is the embodiment of resilience—and a true inspiration.
QUESTION 4. What's your vision for your life? Where do you see yourself in 5 years?
My vision is to run my own retreat center—which is where I see myself within the next 5 years. A secluded place in a widely wooded region, for example the Appalachian mountains of Georgia, North Carolina or Tennessee (which are my second home) or Nova Scotia, Canada.
QUESTION 5. What is your "big project" at the moment?
Currently, the "big project" I am pursuing is being able to offer international resilience retreats.
QUESTION 6. What has been your favourite coaching moment so far?
I love when I can take my clients out into the forest for coaching. Sometimes, truly magical transformations take place there or highly emotional moments.
Once I was out in my own little forest in Germany's Odenwald region, about half way between Frankfurt and Heidelberg, with a small group of five men and women.
At one point, one of the women walked up to an old beech tree. She had taken off her shoes and wrapped her arms around the tree as if hugging an old friend. She stood like this for several minutes. Later, she walked up to me and told me how she had felt the urge to hug this tree: "You know, it felt to me like I could release everything. Like letting go all stress and tension. I cried when I stood there," she confessed.
It turned out she had survived cancer and a lot of fear, tension and also anger had built up over time. She said: "Now I finally feel ready to move on."
Thinking of this moment still gives me goosebumps.
QUESTION 7. What are your Top 3 favourite coaching tools and/or resources?
In my forest, I laid out a "medicine wheel" of stones: I enjoy working with this "Wheel of Life" out in nature, but also like the "Wheel of Life" otherwise.
Something I also often work with is the "Sailboat Metaphor", a tool developed by Hugo Alberts (Ph.D.) and Seph Fontane Pennock. This metaphor covers all aspects of life, picturing the client as the captain of his/her sailboat, and is a wonderful tool in helping clients strengthen their resilience.
In addition, mindfulness exercises are a vital part in my coaching.
QUESTION 8. What do you love most about being a coach?
Seeing transformation take place, seeing clients grow confidence, finding new ways, developing their very own strategies for coping with the smaller and bigger blows that life sometimes has in store for us and thus gaining quality of life: that's what I love most about being a coach.
QUESTION 9. Tell us a secret about you…
I once spent a night in the haunted vaults of Edinburgh, Scotland, with a group of real-life ghost hunters. Which was pretty spooky.
But I can't watch any movie that is creepier than "Ghost Busters" without having the worst nightmares afterwards. But pshhht—don't tell anyone…!
QUESTION 10. If you could change one thing in our world, what would it be? And how would you go about it?
If I could, I would end all cruelty in this world. I would have people be kind to one another and to our fellow creatures by spreading love and random acts of kindness whenever possible.
Oh, and since we're just talking about it: Why don't we all start? Right now?
If you liked this "Meet the Coach" featuring Silke Hable, you may also like: