Originally Posted on The Coaching Tools Company as Calming River 5 Minute Meditation GRAPHIC
August is often a time when we kick back and relax! So we created this calming and simple 5 Minute Meditation Graphic (River) for you, your clients, your groups and more… Anyone can do this simple guided meditation—any time!
How to use this 5 Minute Meditation Graphic?
Simply share this graphic on social media (see below graphic for specific social media tips!)
Use this 5 minute river meditation with your clients or in workshops, groups or in teleseminars:

Simply read out the steps in the graphic below. Speak quietly, slowly, and allow lots of time between steps for people to imagine/visualise (for a total of 5 minutes).
TIP: Do the steps with your audience so you get a sense of how long to allow and then allow a little longer (or listen out for coughs/people shifting in their seat to know they're done). Go here for more tips on how to read guided meditations >>
TIP: Find a nice meditation-like "bong" to signal the end of the meditation (not an "alarming" sound!)
Here's your Easy, Calming River 5 Minute Meditation Graphic: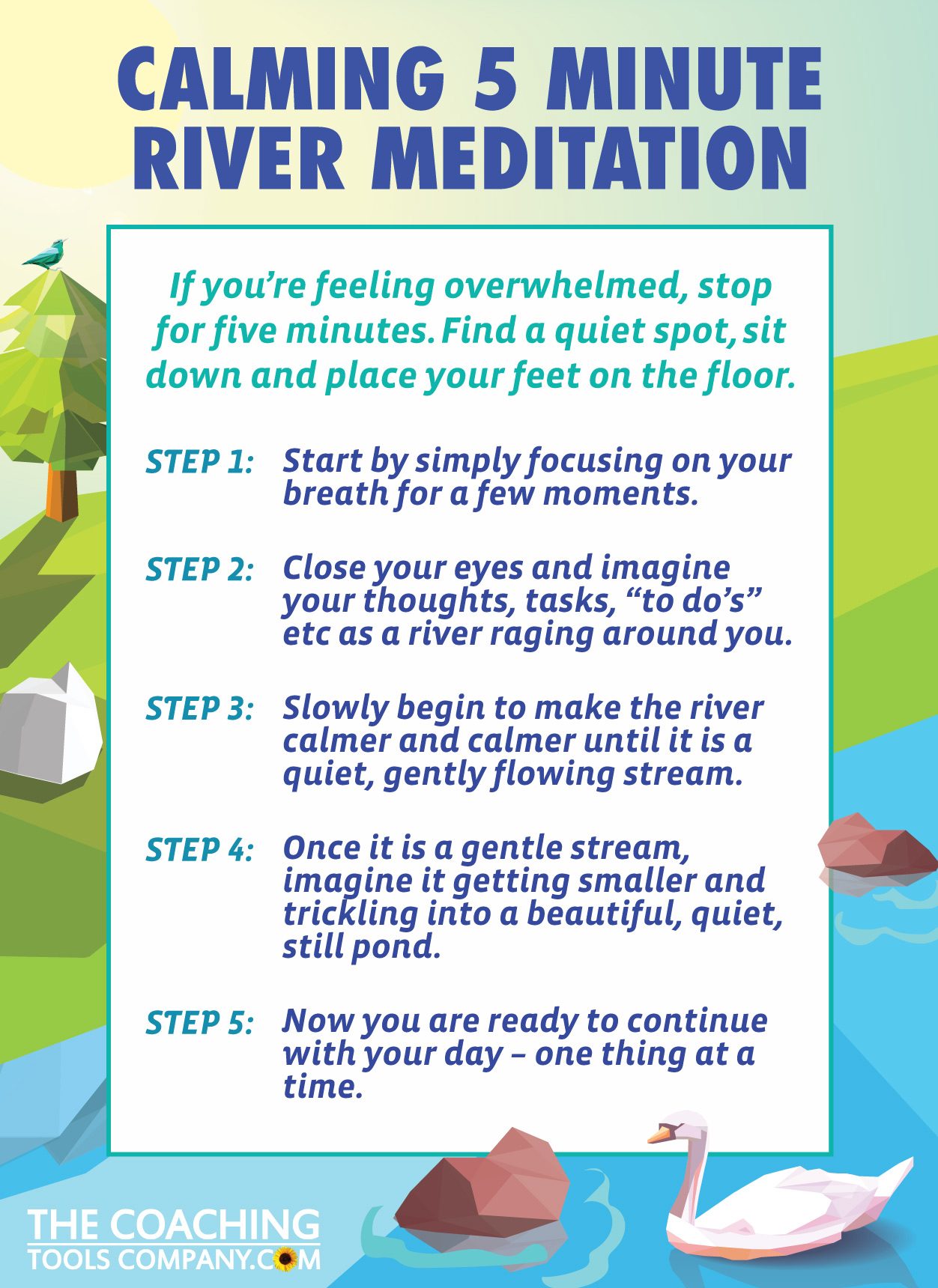 Specific TIPS to share this Meditation Graphic on Social Media:
EASY: Say to fans and followers, "Here's an EASY 5 Minute Calming Meditation for you to do—any time, any where. Enjoy!"
MEDIUM: Share the graphic as above, and ALSO share how you use meditation to find calm in your life.
CHALLENGE: Record yourself reading the meditation graphic aloud (audio or video). Then share that on social media!
If you liked this article with an easy 5 Minute Meditation, you may also like:
The two other meditation graphics in this series: