Originally Posted on The Coaching Tools Company as Coaching for High Performance: Combining Sport and Personal Coaching Approaches | by Karen Lukanovich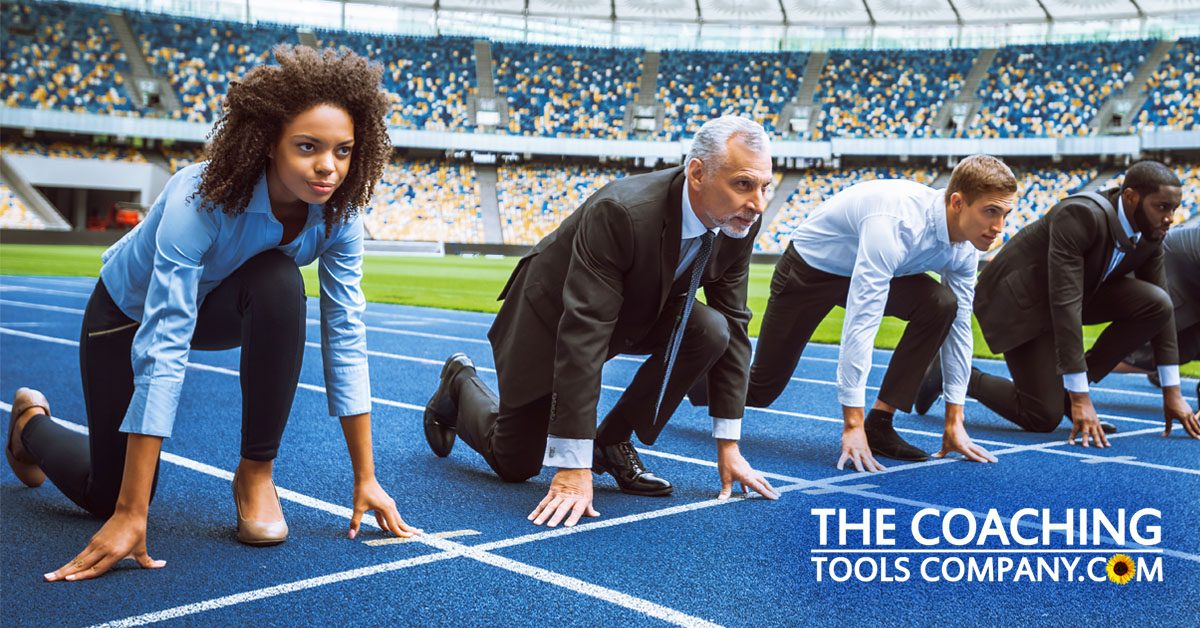 You're off to great places! Today is your day! Your mountain is waiting, so get on your way! Dr. Seuss
The best of both worlds
Many of us have clients who are high achievers, such as executives and leaders or teams with goals that require coaching for high performance.
As a coach who works both in high-performance sport and personal development coaching, I'm learning where and how the two worlds can come together.
Most sport coaches need to learn and adopt personal development coaching skills into their tool set. At the same time, the holistic whole person approach used in high-performance sport coaching has a lot to offer to all coaches and coachees.
So, what can coaches learn from each other to co-create better, more successful processes with our coachees?
First, let's take a closer look at the definition of high performance
What does high performance mean in the context of personal or team performance? Does it mean producing world-class results? Well, no, I don't believe so. At least, not all the time. That would put it out of reach for too many people.
Unlike peak performance, high performance means achieving better-than-expected results in a sustainable way.
This requires incredibly disciplined practice and preparation over time, which forms a foundation for the process I call the "journey to mastery". Once learned, this process can then be consciously repeated in other situations.
A wraparound approach for high performance
Given this definition of high performance, how can coaches and coachees see what they can aspire to and invest in over the long term? What can help both see the coaching process versus the coaching sessions?
In my experience, both in the sport and corporate worlds, setting coachees up for high performance involves the following components:
Understanding the level of planning and commitment required over time
Ongoing mindset development
Maintaining mental health and well-being
Driving motivation and sustaining engagement
Because all the physical preparation and best equipment in the world won't overcome breakdowns in any of these areas.
So if our athletes want to achieve high-performance goals, or corporate coachees want to perform at their highest levels in the corporate world and thrive, we need what we at our sports club call a "wraparound" or holistic approach.
Goal setting and planning
Goal setting and planning are the outcome of taking action on one's vision and purpose. In sport, just as in all coaching, it's the athlete, team or coachee who sets their goals with the coach's support.
In high-performance sport, sports coaches co-create the plan with the athletes. It's a very hands-on planning process. The plan includes every workout, day, week and month throughout the year—and, at Olympic levels, every four years. We engage in regular performance monitoring to adjust the plan if required.
In this context, sport coaching is more directive than personal development coaching, involving science-backed training and technical instruction.
However, more advanced sport coaches will co-create a plan with their athletes that's sport-life balanced—and includes personal development goals and practice.
Mindset development
As we aim to master the skills we need to achieve our goals, it's helpful to acknowledge that this process may rely on a shift of mindsets, behaviours and habits.
Over the years, I've competed at the highest levels. Through my coaching career, I've come to appreciate that two mindsets are key to success in high-performance pursuits: 1) a growth mindset and 2) a positive mindset.
A growth mindset embraces learning through process and progress. It includes the ways we approach trying, learning and overcoming hurdles. This means:
Moving into action
Getting out of our comfort zones and taking some risks
Being persistent
Being willing to fail
Learning quickly from those failures and then putting that learning into action
These are the backbone of building confidence.
A positive mindset is really about hope and optimism. It contributes to higher life satisfaction through:
Increased health and longevity
Better social relationships
Higher work productivity
More virtuous behaviours
Higher creativity
Resilience
Personal development coaches possess many tools and skills to help their coachees shift to these mindsets, which underpin sustained high performance in both the athletic and corporate world.
Health and well-being
Applied neuroscience teaches the concept of maintaining a strong "body budget".
We are a complex mind-body system in which each part influences the other. And our brains don't differentiate between physical and mental outputs. If we make too many 'withdrawals' and not enough 'deposits', we'll experience low energy, increased stress, depression, lower resilience, feelings of overwhelm and pain.
A simple lifestyle model is at the foundation of our behaviours and results:
Good-quality sleep
Nutrition
Exercise
A healthy dollop of restorative and joyful activities
I was surprised at how many of the high-performance athletes I've coached are missing one or two of these in their lifestyle. They often have poor sleep or diets, little social life, and no meditation practice, journaling or other mindfulness activities they enjoy.
And the same is true for our executive and leadership clients! To flourish, our high performers need to have fun, rest and recover, and get to know their limits!
As high-performance coaches, we need to help them ask: "What is the recipe for my best performances?"
I use a number of approaches with my high performers to help them maintain mental health and well-being:
We practise emotional regulation strategies for high-stress events such as competitions.
We plan fun team-building activities and workshops on topics such as sport nutrition, breathing regulation and race-planning strategies.
Yoga and meditation are weekly activities.
I regularly meet with my athletes one-on-one to coach them on negative self-talk, perfectionism, whatever they are doing to hold themselves back.
If necessary, I'll refer them to a sports psychologist.
Physical, Mental, Emotional and Spiritual components all come into the process of developing high-performance athletes. Just like with great executive and leadership coaching,
When I look back at my corporate career leading high-performance sales teams, I would have loved to have known then what I know now.
I believe I did a great job in goal setting and planning, hiring folks with good learning skills and positive mindsets, and having an open leadership style and a good sense of humour. But I could have done a much better job recognizing the importance of team building and mental and physical well-being—using a wraparound approach to support even better performance outcomes.
Inspiration and motivation
How do we keep our athletes and coachees engaged? Well, we can help them connect to purpose and passion for inspiration and daily successes to fuel motivation.
Inspiration ignites action! And our coachees' actions speak to how much they are willing to invest in their process.
Inspiration must top and tail the end goals and performance goals. Rallying our coachees around their dream, aligned with their purpose and values, is vital for success. This inspires the day-to-day efforts required to achieve their high-performance goals year after year.
So I find creative and positive ways to reconnect my athletes or coachees to their "big dream" and the notion that what matters is how we show up every day.
Understanding our intrinsic and extrinsic motivators is important—but to sustain motivation over the long term, we need more help.
Neuroscience tells us meaningful work, no matter how small the progress, helps move us into the positive actions needed to complete tasks. And then completing these tasks feels rewarding and releases dopamine that fuels our motivation to continue to the next tasks: a positive and reinforcing cycle.
In all domains, getting to know our coachees well and understanding what drives them is key.
And helping our coachees break down their goals into smaller chunks or tasks that they can complete successfully also reduces overwhelm. This is an excellent strategy for high performers.
Wrap-up
As coaches, we want to offer the best tools to help guide and support. An effective high-performance sport coach will take a holistic approach to co-planning, a wraparound approach.
In addition to physical and skills development, we must support the development of high-performance mindsets and the maintenance of optimal health and well-being. We must offer our coachees the tools to keep their motivation and inspiration going between or after coaching sessions—and ideally to replicate the process in other areas of their life.
We also need to be open and trust our instincts as coaches, be adaptable, flexible and go with the flow. We can learn new approaches from each other to support our high-performance coachees. And we must encourage self-agency beyond the coaching sessions, which is often a challenge and a topic for more coaching and discussion.
I hope you found some inspiration here—a new perspective or strategy to add to your coaching toolkit: Happy coaching!
Resources & Further Learning:
On high performance:
On goal setting and planning, a positive mindset, inspiration and motivation:
On a growth mindset and confidence:
On health and well-being:
If you liked this article, you may also like: